It's all systems go for Greenpop, as they prepare for their 8th annual Reforest Fest in the Overberg's ancient Platbos Forest Reserve. Set to break their previous record by planting 10,000 trees this year, the environmental NGO invites you to join them for one of two action-packed weekends! With the water crisis that the Cape is facing, tree-planting is needed now more than ever – considering the various long-term benefits reforestation has on the earth's water cycle, returning the ecosystem to its natural state. (Re)connect with yourself, your fellow humans and with nature over the Family Weekend or Friends Weekend! With a fantastic lineup of local bands and musicians, thought-leaders from the green movement, sustainability workshops and activities galore, Reforest Fest has become a highlight of the environmental movement's calendar. This year, the musical lineup includes Nic Preen & The World of Birds, TouchWood, Money for Bali, Jews for Techno, Nevau, The Brothers Remedy, The Fishwives, The Flamels, and Dreamer, with many other artists and workshops also set to bring the grooves. Besides the music, Secret Sunrise wake-up shake-ups, yoga by Shift, Earth Hour meditation, and dance workshops by UBuntu Bridge are just some of the other various activities in store, all included in the ticket! Greenpop has also once again partnered with TEDx Cape Town to bring some cutting-edge talks to the festival, as well as featuring Fossil Free SA and several other conservation and sustainability thought-leaders and experts on the talk schedule. Pop-up theatres, fire-shows, kids talent shows and games, and loads more add to the huge list of things to check out and enjoy at the eco-friendly waste-free festival. Embrace this opportunity to help plant thousands of trees, dance under the stars to the sounds of some phenomenal bands and artists, learn from eco-workshops and activities, enjoy delicious food, and and much more!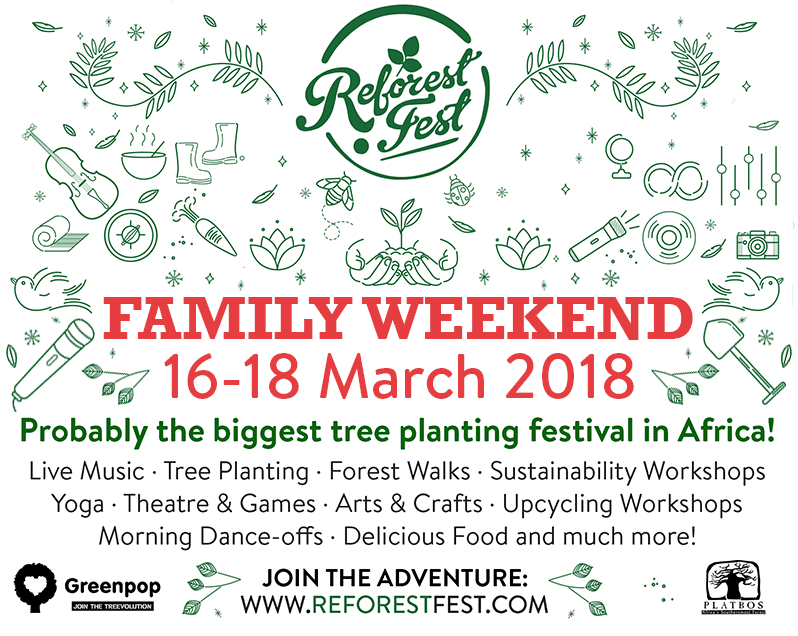 Reforest Fest
Each year, Greenpop and the Platbos Forest Reserve host Reforest Fest over two weekends in the beautiful ancient forest, 2.5 hours away from Cape Town in the Overberg region. There have been nearly 41,500 trees planted through the Friends and Family weekends to date. This year promises to be even bigger and even better, with more trees to be planted, more activities to enjoy, and more music to boogie to!
Family Weekend (March 16-18) is a chance for parents and children to connect in nature while planting trees, enjoying great family entertainment and participating in activities for all ages. Unplug for some quality family time in the great outdoors and learn lessons about the planet. The musical lineup for Family Fest includes Mazula, The Fishwives, The Flamels, DJ Pure, The Brothers Remedy, Dreamer and Perfect Shadows. In terms of activities, there is no shortage of kid-friendly things to do, including yoga sessions with Mindfull Kids, Soul Circus workshops, guided night forest walks, Biobash walks with Bionerds, and much much more!
Friends Weekend (March 23-25) is for people who would like to get their hands dirty and make positive impact for the environment. As well as planting thousands of trees, fest goers can enjoy eco-talks, workshops, walks, delicious plant-based food and so much more. Friends Fest activities are more tailored to adults, but all ages are welcome at both festival weekends! This year's Friends main stage is set to be one for the books, with Nic Preen & The World of Birds, TouchWood, Chico Muya, Money for Bali, Jews for Techno, Nevau, DJ CrashLove, Satya Jones, Perfect Shadows and more set to get the crowd jiving. Guided walks with the renown Meg Palgrave and Francois Krige (custodian of the Platbos Forest Reserve); and talks and discussions hosted by TEDx and local environmental heavy-weights such as Mellony Spark from Fossil Free SA, Jade Khoury from Low Impact Living, Donovan Will from Fry's Family Food Co., and Mike Fabricius from the Walker Bay Conservancy project are just some of the wonderful things to check out!
Who is Greenpop?
Greenpop is a social enterprise on a mission to (re)connect people with the planet. They plant trees through urban greening and reforestation projects, spread environmental education, and activate people through green workshops and events.
Greenpop was founded in 2010 and has since planted over 86,000 indigenous and fruit trees at schools and other urban sites, community farms as well as forests across South Africa, Zambia and Tanzania. More than the number of trees, Greenpop is inspired by the hands that have helped to plant the trees and the further thousands that have joined Greenpop's eco-education programmes and made a commitment to be custodians of our beautiful planet.
Visit their website or facebook page for details.
We'll see you there!